---
INDIAN FILM MUSIC
---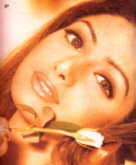 The beautiful face you see here is Sridevi, one of a bevy of stars who symbolize the world's largest film industry - India's commercial blockbusters, which are avidly viewed not just by the huge audience in India but by big audiences in the Middle East, Africa, The former Soviet Union, and any place in the world with an Indian expatriate audience. These films serve up a potent mixture of spicy romance, wild action, provocative sensuality, hilariously convoluted plots, drama, pathos, and sweet, rhythmic music - all the while standing up for traditional family values, of course.
Every "mass entertainment" film is a musical, and the popular music scene in India is controlled by film music directors, not record producers. Each song is treasured for that special moment in the film when the hero and/or heroine burst into song in the middle of a spectacular scene. But when the song starts, it is not the star, such as Sridevi, Rekha, Amitabh, or Shah Rukh Khan who is singing - it is one of India's patented "playback" singers who is providing a voice as good as the face. The most famous of these include Lata Mangeshkar, Asha Bhosle (pictured below), Kishore Kumar, Mohammed Rafi, and Mukesh. The majority of the films and hence the songs are in Hindi, although there are large commercial industries producing films and songs in other languages, especially Tamil and Telegu in the South. Songs are also an important part of so called "art" films produced in almost every Indian language.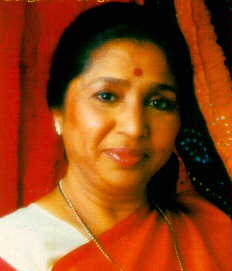 Film Music, or "Filmi Geet" is heavily influenced by traditional Indian music genres, especially ghazals (poetic songs), qawaalis(Sufi devotional) , bhajans (Hindu devotional) and Natya Sangeet (stage music) - all of which are strongly rooted in Indian Classical Music. But commercial music directors tend to borrow heavily from many foreign influences, including Jazz, Rock, Eastern European, Spanish, Latin American, and even Irish. The singing style and rhythms tend to be distinctively Indian, however. As a result, Indian pop music has maintained a very distinctive identity even while shamelessly imitating the latest Western fads. Artists such as Asha Bhosle (seen here) often perform in several different genres.
Check out the links below to get information and images about your favorite songs and stars in the "Filmi" world, and tune in to "Raga" to hear the music!




---